Customer Reviews
Write a Review
Ask a Question
11/21/2020
Anonymous
Slovakia
11/11/2020
Rita C.
Portugal
Completely in love ♡
Completely in love ! I have been a customer for a few years now and when I saw the crowdfounding email I signed up right away and without any doubt it was worth the wait! Not gonna lie, during the first week using the toothpaste I was not sure if I liked it. The texture is different from the "regular" toothpaste, it does not make almost any foam and although the flavour was good, it was not what I was expecting. Now that I just finished my first tube I can say that I will not use anything else! I love the flavour and my teeth feel super clean. Last week I removed my wisdom teeth and I was advised to use a non-foam paste and The Bam&Boo Natural Toothpaste was a lifesaver ! The only flaw to me is the cap, sometimes I struggle ******** it back. The service is always amazing! I 100% recommend and I just subscribed so I can have it delivered to me every month. Estou completamente apaixonada! Sou cliente há já alguns anos e quando vi o email sobre o crowdfunding pedi logo a minha pasta, e sem dúvida nenhuma que valeu a pena esperar. Não vou mentir, durante a primeira semana a testar a pasta não tinha a certeza se gostava. A textura é diferente das pastas a que estamos habituados, não faz quase espuma, e apesar do sabor ser bom, não era o que estava à espera. Agora que terminei o meu primeiro tubo posso dizer que não quero usar outra! Adoro o sabor e sinto os dentes super limpinhos. A semana passada removi dois dentes do siso e foi me aconselhado usar uma pasta que não fizesse espuma e sem dúvida que a pasta da Bam&Boo foi uma salvação! O único defeito para mim é a tampa que às vezes é difícil de enroscar. O serviço é sempre 5 estrelas. Recomendo 100% e já subscrevi para poder recebe-la todos os meses. PS: I hope the squeezer key comes back! Even as a product to buy. I would love one!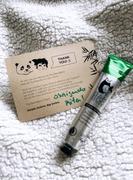 11/14/2020
The Bam&Boo Toothbrush
Que comentário incrível, Rita. Ficámos rendidos! Muito obrigado por cada palavra. São pessoas como a Rita que nos fazem querer ir mais longe e para um local melhor. Obrigado por nos ajudar a tornar o mundo numa casa mais confortável e verde. Esperamos continuar esta viagem juntos! Muito obrigado, thank you very much e todas as formas de agradecimento em todas as línguas :)
11/23/2020
richard H.
Monaco
Love it
As some one who has tried a few different types of "eco toothpaste" this is by far my favorite. small side note, in the ads it shows a handle to roll the end up to get everything out. mine has never come with this, not a big deal, just don't expect it. but still 5 stars
11/18/2020
Ana G.
Portugal
great service
11/20/2020
The Bam&Boo Toothbrush
11/07/2020
Jasmine R.
United Kingdom
Loooove this toothpaste
I received my first order last week and I looove this toothpaste, it tastes great and cleans very well. Loving the metal tube and overall design too. I'm definitely going to order more! P.S. I also highly recommend the toothbrushes! (I ordered medium hardness, and it has made my teeth feel so good)
11/13/2020
The Bam&Boo Toothbrush
Hey Jasmine! Incredible feedback! Thank you so much. It's a pleasure having you by our side :)